Jan Donner is a sought-after orchestral musician, soloist and teacher. Born in 1989, he grew up in Bergisches Land, Germany.
Seit 2017 ist er als Wechselposaunist im Orchester der Deutschen Oper Berlin engagiert. Darüber hinaus unterrichtet er seit 2018 als Lehrbeauftragter an der HMT Rostock. Ab Sommer 2019 ist er Lehrer an der musischen Spezialschule Carl Philipp Emanuel Bach in Berlin.
Als Gast spielt Jan Donner in renommierten Klangkörpern wie der Sächsischen Staatskapelle Dresden, dem Gewandhausorchester Leipzig, der Staatskapelle Berlin, dem Deutschen Symphonie Orchester Berlin, dem Gürzenich Orchester Köln, dem Philharmonischen Staatsorchester Hamburg, dem Frankfurter Opern und Museumsorchester, dem Konzerthausorchester Berlin, dem Mahler Chamber Orchestra, dem Orchester der Komischen Oper Berlin, der Deutschen Radiophilharmonie Saarbrücken Kaiserslautern (SR/SWR), dem Rundfunksinfonieorchester Berlin, dem Niedersächsischen Staatsorchester Hannover, den Duisburger Philharmonikern, der Nationaloper Helsinki und dem Stavanger Symfonieorkest.
Jan Donner has an extended experience in working with young musicians. He has led rehearsals for the Junge Bläser Philharmonie NRW, the Jungen Blechbläser NRW, the Jugend Blasorchester Havixbeck, and has given workshops for the Posaunenwerk in the Rhineland. He has also been a guest lecturer at the Folkwang University of the Arts in Essen.
Jan Donner began his musical education playing the piano and learned later his first brass instrument. He studied at the University of Arts in Berlin (Andreas Klein), in Hanover at the University of Music, Drama and Media (Jonas Bylund), and at the HMT Rostock (Jamie Williams).
Mit dem Blechbläser-Ensemble 10forBrass ist er deutschlandweit unterwegs. Als Solist trat er unter anderem mit der Polnischen Kammerphilharmonie, den Bergischen Symphonikern und dem Stabsmusikkorps der Bundeswehr Berlin auf. Eine weitere Leidenschaft gilt der Kirchenmusik: 2017 schloss er die C-Ausbildung zum Organisten am Seminar der Kirche Berlin Brandenburg Schlesische Oberlausitz ab. Im Jahr 2021 beendete Jan den Studiengang "Mediation Kompakt" an der Fernuniversität Hagen.
Im Jahr 2021 erschien die CD "Meanwhile" (erhältlich über Amazon oder über meanwhileCD@gmx.de)
Jan Donner is supported by the Oscar and Vera Ritter Foundation Hamburg.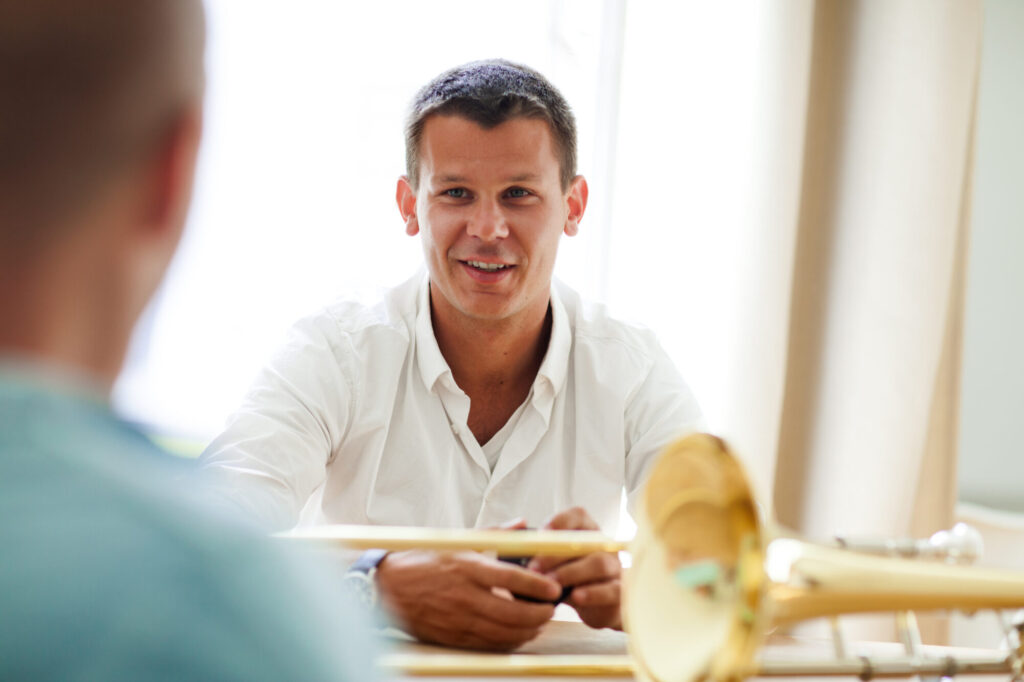 "Was mich besonders fasziniert: dass Jan bei jedem sehr schnell eine individuelle Entwicklungs-möglichkeit erkennt und bei wirklich jedem innerhalb der 30-minütigen Einzelstunde eine für den Einzelnen und die Zuhörer deutlich erkennbare Verbesserung erreicht, indem er aus dem reichhaltigen Schatz seiner Methoden treffsicher jene auswählt, die individuell am besten passen und umgesetzt werden können."
Gisela Wook
Trompeterin, Workshopteilnehmerin
"Jan Donner is at the top of his generation as a well-rounded musician. His orchestra playing as a tenor and bass trombonist, his superb teaching skills as well and conductor and organist reflect the years of his top musical training. As his colleague, mentor and friend, I feel every moment spent making music together with Jan is a great pleasure."
Jamie Williams
Prof Trombone, HMT Rostock
Principal Trombone, Deutsche Oper
"Having seen Jan develop from a young age, I have always been impressed by his focus and dedication. Now an established orchestral player and soloist of immense talent, he continues to inspire me by his mature and persuasive performances."
Chris Houlding
Prof Posaune & Blechbläserensemble
Folkwang Universität der Künste Essen
Visiting Tutor, Guildhall School of Music & Drama
Chairman of the International Trombone Association
11.07 - 16.07.2021
https://www.young-academy-rostock.de/veranstaltungen-projekte/yaro-summer-school/

21.7.2021
Dom zu Brandenburg 19.30
Brandenburg an der Havel
24.07.2021
Marienkirche Uelzen
25.07.2021
With 10forBrass
Schloss Pfedelbach
1.08.2021
Posaunenwerk im Rheinland
Kulturkreis im Heimatbund
7.08.2021
Konzert Posaune Orgel mit Peter Albrecht
Katholische Kirche Remscheid Lüttringhausen
12.10.2019
Konzert Posaune Orgel mit Peter Albrecht
Zollstock Köln
Maulbronner Klosterkonzerte
Kloster Maulbronn